While conformal coatings increase the lifetime of electronic devices by providing a thin barrier that strengthens their ability to withstand harsh environmental conditions, adhesives and encapsulants provide a significantly higher level of protection on the entire assembly.
The most common properties of adhesives and encapsulants include:
creating environmental seals that protect against moisture and corrosion,
providing high-temperature resistance,
increasing shock and vibration dampening,
generating strong bonds to a variety of substrates,
maintaining low shrinkage, and
offering thermal conductivity.
HumiSeal adhesives and encapsulants are available as 1K or 2K compounds with medium to high viscosity. They can be used in the following processes:
Used for the purpose of joining or securing a component in order to increase shock and vibration resistance by releasing the strain from the solder joints.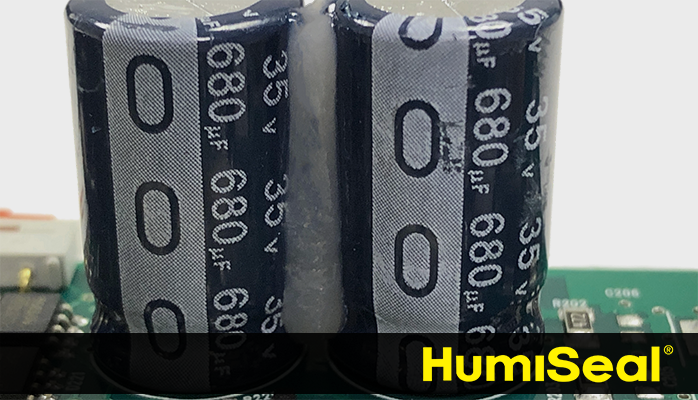 Also read: How Best to Protect PCB Mounted Components from Vibration
Involves a case filled with liquid potting material to completely cover the device and the components. In casting, a temporary frame is used.
C- encapsulation/dam and fill
Utilized to enclose, without the use of a case or frame, small areas of the assembly to address critical components that require a high level of protection.
Pros and Cons of Different Encapsulation and Adhesive Application Methods
The following offers a wide range of application methods, such as
1. Manual application with 1- or 2-part dispensing guns

advantages

easy access in tight areas
quick change of syringe, mixer, and needle

disadvantages

operator dependent
poor control of the dispensed quantity
2. Semi-automated dispensing systems for 1- or 2-part materials


advantages

easy access in tight areas
quick change of syringe, mixer, and needle
good control of the quantity dispensed
pressure regulator and time-dispensing control

disadvantage
3. Automated benchtop robots

advantages

programmable
superior control of the dispensed quantity
high throughput
adaptive for 1- and 2-part syringes or bulk

disadvantages

limited working area
cannot be integrated into conveyorized inline process
4. Fully automated dispensing systems


advantages

PC integrated software for programming
progressive pumps and vacuum control available for accurate bubble-free dispensing
configurable for 1- and 2-part syringes or bulk
bigger working area
weight check and needle calibration
conveyorized integration with existing inline process

disadvantage
HumiSeal's wide range of adhesives and encapsulants allows you to increase the level of protection of the entire assembly or specific components, regardless of the application method chosen.
If you have questions, you can always contact us.
Check our recommended Articles: