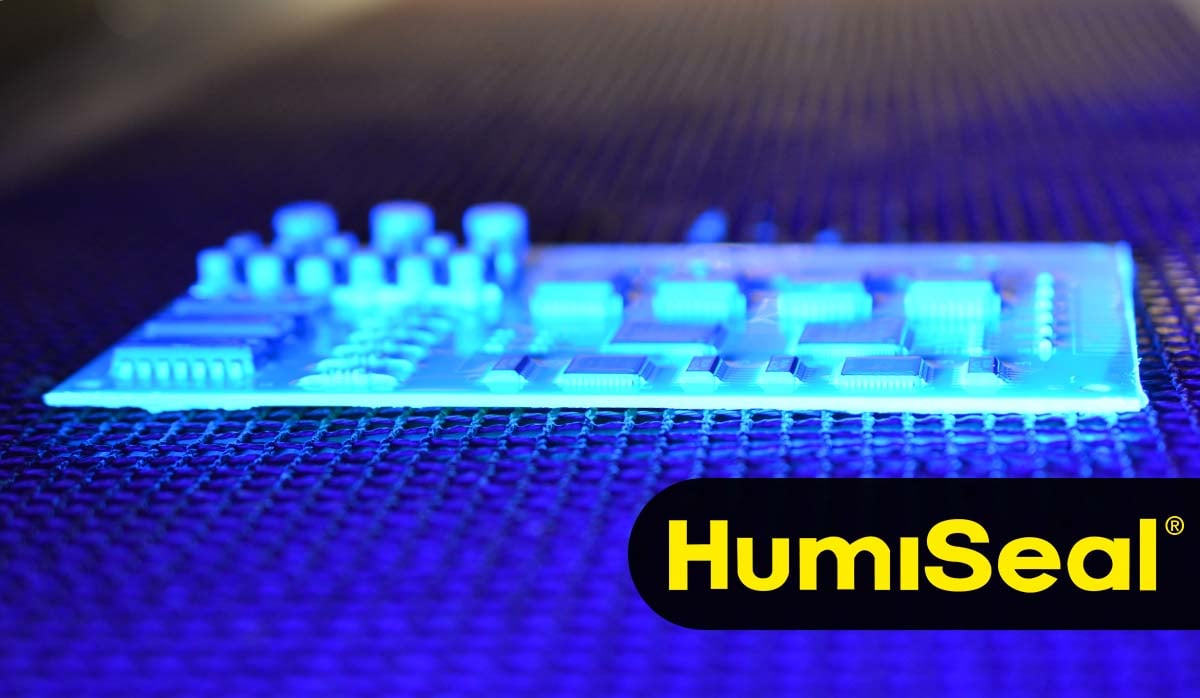 UV curable conformal coatings have attained widespread use in applications requiring fast through-put times, such as automotive, white goods, and industrial control manufacturing. In addition to speed of cure, UV curable conformal coatings provide the advantage of high physical protection and chemical resistance for electronic systems. Traditionally the UV curing of coatings is an energy intensive process. One that uses high-power mercury discharge lamps, which as a result of use produce considerable amounts of heat and ozone. The recent introduction of new, high-output LED UVA light units allows for the successful cure of conformal coatings by using between 365nm and 395nm wavelength of UVA light, effectively curing with minimal heat and no ozone generation.
Traditional UV Curing
For comparative purposes, we will begin with a brief look at what can be considered the more traditional approach to UV curable conformal coatings. HumiSeal® has decades of experience and an extensive product portfolio of UV curable acrylated urethane conformal coatings requiring high-energy, full-spectrum UV light. These products have demonstrated great value due to their advantages over older solvent-borne coatings. Benefits are:
minimal or no VOC content
nearly instantaneous curing
high throughput/short cycle time potential
superb temperature and chemical resistance
As is often the case, however, there does remain issues and difficulties associated with traditional, full-spectrum UV curing. Problems include:
high energy consumption
limited light source life/durability
hazardous wavelengths requiring enclosed design
hazardous ozone generation
heat generation
inconsistent through-cure/thermal cycling issues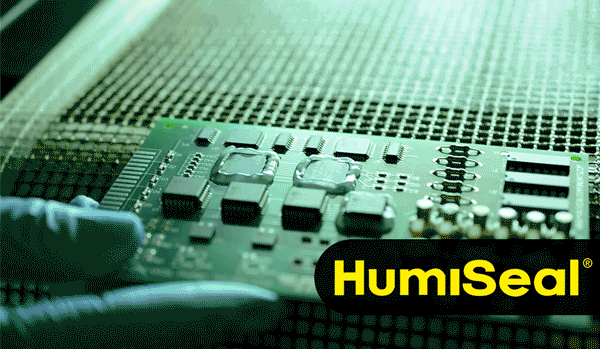 LED Curing Approach
A significant body of research and development has been completed by HumiSeal/Chase Corporation and other conformal coating suppliers to develop UV curable coatings that can be cured by high intensity UVA LED lamp units rather than mercury discharge lamps. Advantages of lamp units over mercury discharge lamps are as follow:
lower energy consumption
constant light output during lamp unit's lifetime
lower operating temperatures
no ozone production
no harmful UVC emissions
potential for improved thermal cycling performance
UVA lamp units generally produce single wavelength UVA light between 365nm and 395nm. By comparison, mercury discharge lamps produce multi-wavelength UV light, containing a broad spectrum of UV light in the UVA, UVB and UVC wavelength bands.
Thermal Cycling/Thermal Shock Advantages
It has become clear that industries such as automotive are demanding significantly higher numbers of thermal cycles in the testing of PCBs and electronics. As mentioned, one disadvantage of traditional UV technology is that the UV light does not uniformly penetrate deeper sections of coating. This leads to inconsistent cure, potentially leading to micro-cracking of the protective coating.
Through the use of a single wavelength LED curing approach, however, a more consistent and single level of curing can be achieved, leading to homogeneous expansion and contraction properties. As a result, after the most demanding thermal cycling, there is far less potential for the development of cracks.

Summary
UVA LED curable conformal coatings perform as well as or exceed current UV curable conformal coatings products cured exclusively by mercury discharge lamps. UVA LED curable conformal coatings show great potential for delivering high protection of PCBs. Increased shielding is especially pronounced in tests of thermal shock resistance, which rely on physical stability of the coatings. The increased deep penetration of UVA light into organic polymers produces a uniform cure profile, leading to polymers with consistent properties.
As a supplier of electronics protection polymers and coatings, Chase Corporation and HumiSeal can help you with an unbiased approach to evaluating your application and process. We'll show you how to maximize efficiency, minimize cost, and improve product reliability. Our outstanding manufacturing and technical support groups can provide your organization with reliable global supply, unmatched quality, and superior technical support.