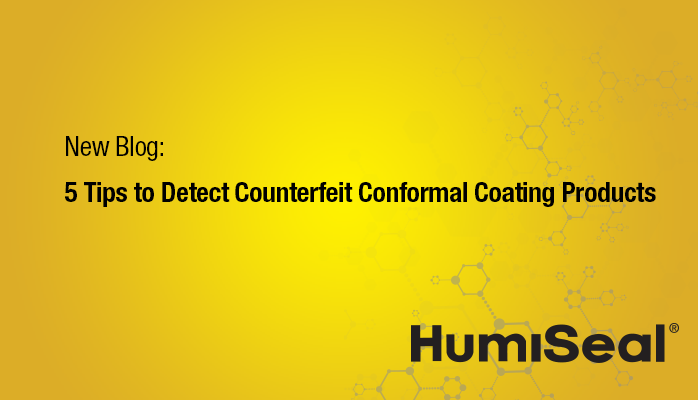 For decades, HumiSeal products have been considered the "gold standard" in electronics protection. As a result, it is no surprise that unscrupulous chemical manufacturers have been continuously trying to profit from this reputation through the production of copycat or counterfeit products. While imitation is considered the sincerest form of flattery, the use of counterfeit materials is a serious danger to the integrity of your electronics production.
Here are just a few scenarios that could result from the use of counterfeit materials:
poor adhesion or premature delamination in thermal cycling – this would likely result in failure in military, aerospace, or IPC testing protocols or potential field failures of PCB's.
SIR/MIR failures due to contaminates - pcb (printed circuit board) is protected with inferior materials that contain contaminates could lead to electrical failures where contaminates provide inadequate dielectrics.
dewetting and poor coverage due to lack of rheology modifiers - coatings lacking surface energy modifiers could "bead up" or "wet poorly" leaving uncoated and unprotected areas on boards and field failures.
uncured coatings – counterfeit coatings often "cure" or crosslink incorrectly leading to either a lack of chemical and moisture protection due to low curing or cracking and thermal cycling failures if cured too much.
Loss of UL certification because a non-UL coating was used – regular auditing and testing of finished boards could identify counterfeit coatings and result in loss of UL certification for all final consumer products leading to potentially enormous liability.
Liabilities – the use of counterfeit conformal coatings, voids all warranties and places the risk of liabilities on the applicator.
Below are 5 ways to protect your organization and your electronics from the dangers of counterfeits
Learn how counterfeiters operate.
Counterfeiters worldwide use increasingly sophisticated methods to avoid detection by rights holders and law enforcement bodies. Due to lax regulations in certain regions, it is possible to sell materials with copycat packaging and product designations without detection or consequences. In addition, even if detected, their operating methods are designed to minimize potential penalties.
To avoid detection by investigators, counterfeiters do not provide samples to prospective "buyers" and will refuse to deal with potential customers who do not make substantial purchases. This can make it difficult and expensive to confirm whether counterfeiting activities are occurring. To mount any type of civil or criminal case, it is generally necessary to have a sample of the counterfeit product.
Even if a counterfeiter accepts an order, the main players behind counterfeiting rarely take delivery of imitation products themselves. Instead, products are shipped directly from subcontractors to freight forwarders. Payment for counterfeits is usually made to entities separate from the production and sales companies. This can make it challenging to tie the counterfeiter directly to seized products, hindering criminal prosecution.
Finally, sophisticated counterfeiters will often buy genuine products on the gray market and mix them with counterfeit products. This can make criminal prosecution difficult because in most criminal justice systems, defendants can avoid criminal liability if they can show that they have been innocently caught up in counterfeiting activities. Those found in possession of mixed products can simply claim that they have been duped and that they checked the products, which appeared to be genuine.
Learn corporate practices.
Counterfeiters frequently use front companies or front men (realize this terminology is American slang. Please describe what is meant by front man.to register companies that produce counterfeits. This makes it difficult to identify the true players behind a counterfeit operation and makes them liable for their unlawful acts. Furthermore, company production and sales records do not indicate that counterfeits are being produced and sold; rather, model numbers and code words are used. Even if a rights holder obtains these records as part of an investigation or raid action, the documents can be difficult to use unless the meaning of the model numbers and code words can be explained satisfactorily to a court.
Examine the production processes.
Like all good modern businesses, counterfeiters use just-in-time production and rarely keep inventories to reduce carrying costs and the risk of seizure. They produce only to order, making it difficult to seize large volumes of counterfeit products. If counterfeiters do keep stock, they usually keep it separate from manufacturing facilities, in a secret location leased in the name of a front company, making it difficult to link to the counterfeiter. Rights holders can find these locations only after in-depth investigations.
The more sophisticated counterfeiters will not make products themselves. Instead, they'll use separate subcontractors to make different parts of the counterfeit goods, which are then assembled by another subcontractor.
Periodically check the "Wall of Shame."
HumiSeal is taking direct action on a number of fronts against counterfeit products and the organizations that manufacture and distribute them. In one recent case, a company calling itself Kunshan Xiaoxi Electronic even went to the trouble of forging an authorizing letter to try and convince the customers they were buying legitimate products.
Use your common sense.
If the price or if the deal seems too good to be true – it probably is….
We are actively searching for these companies and individuals as well as making significant investments in our global manufacturing facilities, including modernized automated equipment, to further standardize the quality and repeatability of our products. If you are suspicious that you purchased a counterfeited product, please let us know immediately.
All authorized distributors for HumiSeal products can be found on the HumiSeal website here: www.humiseal.com/contact-us. If you suspect something is not right with your supplier or you are buying HumiSeal branded products from a supplier that is not listed, please contact HumiSeal.
Source: This is an excerpt from an article originally published in an issue of the China Business Review.
Related Article:
Counterfeit Conformal Coatings are Costly for Everyone https://t.co/J84jeaCaZr pic.twitter.com/xdXhAOvKqO

— Humiseal (@HumiSeal) May 25, 2017