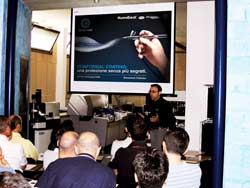 HumiSeal®, the leading conformal coatings solutions provider for the protection of printed circuit boards and electronic assemblies, is delighted with the success of the recent conformal coating workshops held in Italy. Working with its Italian distributor, Cabiotec, and other leading manufacturers, the three one day events have proved to be extremely popular with EMS providers throughout the country in helping dispel some of the myths surrounding this area of manufacturing.
The days consisted of a number of presentations on the makeup of conformal coatings, the different chemistries and applications as well as the legal requirements and legislation affecting the application of coatings within the electronics industry. The day also included demonstrations of selective coating using a PVA coating machine dispensing HumiSeal's 1B73 and 1B73LED as well as the water based product 1H20. The practical demonstrations illustrated how the different materials reacted to being applied to various substrates at differing thicknesses.
A survey of delegates during the event showed that one of the primary issues for manufacturers regarding conformal coatings was the legal and legislative parameters surrounding the use of chemicals with 67 per cent of respondents indicating that this was a concern for them. Other issues included application and curing methods as well as selecting the right chemistry for a given application.
Based in Milan, Cabiotec has established a solid reputation within the Italian electronics industry, and were instrumental in the planning and execution of the training days which have proved to be highly successful. Delegates from 68 companies attended the event with the response so great that Cabiotec had to add an additional day in order to cope with the numbers.
Carla Fiorentino, managing director of Cabiotec, summed up the workshops by saying:
"We are delighted with the success of the events and the feedback we have had from the delegates has been extremely positive. From our perspective, the seminars have led to product qualifications with three new customers in very diverse industry sectors and we will definitely be running the events again next year. I believe that HumiSeal's products offer our customers the very best in conformal coating materials, and combined with our knowledge and understanding of the Italian market, will allow us to exploit new and existing business opportunities."
Chris Palin, European sales manager for HumiSeal Europe, added:
"Cabiotec has built a strong and powerful reputation and presence throughout the region which is backed by a strong engineering and technical support network. The team are extremely proactive in their approach to the industry and I look forward to a long and mutually beneficial partnership. The success of these seminars is something that we will look to replicate throughout other territories in Europe moving forwards working closely with our channel partners in those regions."