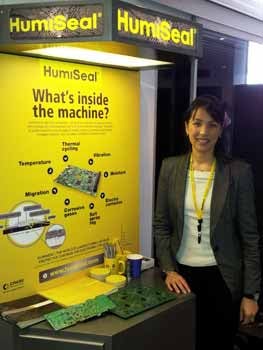 Leading vendor of conformal coating solutions, HumiSeal®, has announced the appointment of Marie Kaing to the position of key account manager with direct responsibility for developing and supporting Global Automotive customers. The announcement comes as the company has enjoyed significant penetration in this key vertical market and continues to focus its efforts on further strengthening its position.
Marie's remit will be to capitalise on her strong technical knowledge of the products and manufacturing process to help develop solutions that align even more to customers' ever increasing demands for reliability in automotive electronics assemblies. Automotive electronic assemblies continue to become an increasingly sophisticated and important aspect of both the functionality and reliability of modern automobiles. These assemblies continue to be placed in ever more demanding end-use environments, where the risk of degradation in performance, due to extraneous factors such as humidity, salt-spray, noxious gases and other sources of corrosion continues to increase rapidly.
A familiar face at HumiSeal, Marie is well known due to her time previously with the company, when she worked as a development chemist on many of the HumiSeal products before becoming chief chemist. This intimate knowledge of the HumiSeal product range means that she is uniquely placed to work with her customers to ensure they get the very best results from their processes.
Marie summed up her appointment by saying:
"It is great to be back working with the team here at HumiSeal. The new role offers many great fresh challenges and opportunities as I work with customers in a more commercial way to build on HumiSeal's success in the Global automotive industry."
Prior to returning to HumiSeal, Marie spent 18 months working as UK R&D Team Leader at Akzo Nobel, a leading decorative paint company, responsible for new development of all Dulux Retail product ranges and supporting the marketing teams with product branding and commercialisation.