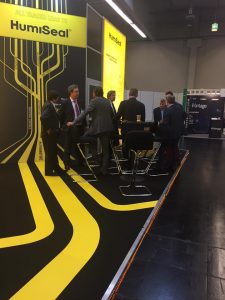 The recent SMT 2016 event in Nuremberg has been hailed a great success by HumiSeal®, following a busy few days on the HumiSeal stand. The conformal coating manufacturer who had a stand in hall 7 were, at times, inundated with enquiries and meetings with both existing customers as well as new opportunities. The show which ran from 26th to 28th April 2016, welcomed over 15,000 visitors from across Europe to the event (figures from show organisers) cementing its place as a leading European event. For the many visitors that came to the HumiSeal stand it was a great opportunity to discuss their ideas, and requirements with both the HumiSeal technical and sales team as well as hearing first hand just how far conformal coatings have come as HumiSeal continues to set the benchmark.
Commenting on the exhibition Chris Palin, EMEIA Manager for HumiSeal, said:
"We have been exhibiting at SMT for several years and despite hearing conflicting reports regarding the effectiveness of exhibitions, have always been delighted with the quality of the leads and enquiries. The events are a fantastic opportunity to meet so many people in our industry to listening to new ideas and applications as well as potential problems they may be experiencing and work with them to resolve them."
"This year's event very much followed this theme where we able to meet brand new potential customers, existing customers with new projects as well as catching up with several of our European distributors. The opportunity to talk about our new product developments in the areas of high temperature and LED applications and how it can address the industry's increasingly demanding standards proves that the investment the we continue to invest in our R&D is making a real difference for our customers."
New Products and qualifications
HumiSeal were present at the show to actively promote several new and key products that have been developed in response market demand and technology trends. Although launched a few months ago, UV50 LV had just been further endorsed, gaining full UL 746E approval. In addition, the company was also keen to promote the new line of masking materials which have revolutionised this area of conformal coating by introducing a product that was easy to apply and is silicone free, something that the industry was very much in need of.
Finally, there was great interest in the products developed for the LED industry. The UV40 Solar and 1B73 LED are specifically formulated for coating LEDs & Photovoltaic applications to minimize brightness or efficiency losses.
High Temperature Applications
In order to address the demands of high temperature, and thermal cycling requirements, HumiSeal was also keen to talk about its range of synthetic rubber coatings. 1B51 NSLU, whilst not a new product, is increasingly becoming more popular in Europe thanks to its superior resistance to thermal cycling damage. In addition the company's 1B59 LU is able to withstand a constant temperature of 150 degrees whilst still providing exceptional protection to the assembly.
HumiSeal were also taking part in the IPC rework challenge being hosted by Bob Wills (also in Hall 7). HumiSeal had one of its micro abrasion systems operating to demonstrate the accuracy and effectiveness of this conformal coating removal system. The bench top system safely and selectively removes all types of conformal coatings, including UV cure and Silicone without the need for harmful chemicals from printed circuit boards and components without causing any mechanical or ESD damage. It is equipped with adjustable powder flow control and air pressure regulation to enable removal of the coating from pinpoint areas to larger areas. This method requires some relative dexterity as it uses high velocity particles delivered through a nozzle. The system work chamber is illuminated with white or UV light to assist accuracy of removal, the work chamber is NASA ESD compliant.