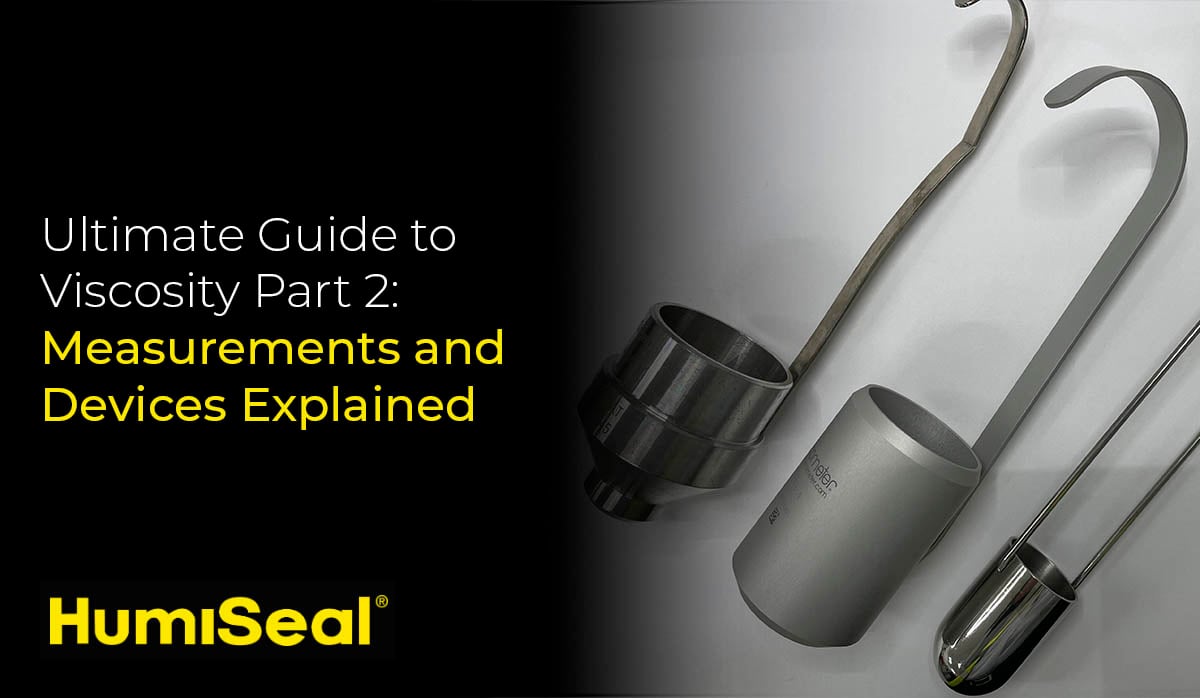 This blog is the second installment in our two-part series on viscosity (with special consideration on adhesives and coatings).
In our previous viscosity blog, we discussed the properties of viscosity and how viscosity can be affected by temperature, the addition of dilution or thinning agents, and other similar factors.
This blog will cover industry-standard equipment and methods of measuring viscosity. This includes the advantages and challenges associated with each method and device. Our goal is to aid in choosing the best approach for specific situations and needs.
Viscometer vs. Flow Cup
The two most common methods to measure viscosity (especially with conformal coating materials) are:
Static: a dynamic shear stress per unit area which is measured using a laboratory viscometer
Kinematic: a resistive flow under the influence of gravity and measured using flow cups
Viscometers
A Viscometer is generally considered to be any piece of rotational equipment capable of measuring and correlating torque to a given viscosity, though there are other forms of this device. These can be either laboratory versions or industrial and continuous measurements in nature. They often have a built-in temperature probe that is connected to an external temperature-controlled circulated system that maintains the temperature of the test liquid sample for high accuracy and repeatable measurements.
Measurement involves placing the liquid sample in a small test chamber consisting of a stainless-steel cylinder and attaching a specific spindle selected for the viscosity range being measured to the viscosity meter. The test chamber is then attached to the viscosity meter, immersing the spindle in the liquid sample. The viscosity meter will then give a direct readout in centipoise.
Benefits of the use of viscometers:
Can be set up to measure a high range of viscosities
Offers accurate and repeatable measurements
Single or multiple measurement points
Measuring viscosity at specific temperatures using an external bath
Challenges in the use of viscometers:
Requires a dedicated area with a flat bench and trained personnel
Variation in viscosity measurement may occur from one viscometer brand to another depending on calibration.
Initial investment and regular services can increase the ownership cost
Flow Cups
Flow cups are stainless-steel or treated aluminum instruments consisting of a cylinder with a certain volume and a drain orifice in the center. The flow cups are available in different styles and different diameters of the orifice based on the viscosity range and measurement methods. This image shows an example of flow cups.
These are also called dip cups, which function by immersing themselves in the liquid material (e.g. pressurized pots or open lid containers used for diluting the solvent-based conformal coating material to a specific viscosity range).
The table below shows the viscosity range for the Zahn Dip Cups.
Benefits of using flow cups:
Easy to use and maintain
Quick viscosity measurement directly in the pressure pot
Long lifetime
Challenges of using flow cups:
Extra care is required during cleaning, especially the orifice. Sharp metal tools cannot be used
Accuracy and repeatability of the viscosity measurements are directly correlated with the operator's experience and reaction time
Interpretation of starting and stopping times is operator dependant
Changes in the temperature of the coating area have a direct impact on the viscosity measurements
The viscosity conversion tables give a range for the measured seconds into centipoise and do not give the exact viscosity. Historical data measurements from the same operators are required to create process controls for monitoring viscosity trends usually when the ambient temperature is difficult to control
Conclusion
Accurate and reliable measurement of viscosity is critical both in laboratory environments and in maintaining process control and quality in the use of coatings and adhesives. We have presented the two most popular and common methods for viscosity measurement: Viscometers and Flow Cups.
Viscometers are generally much more accurate (+/- 0.1%) and can take into account factors such as temperature, whereas an application method is dependent on precise viscosity (as an example +/- 5%) but can be expensive and are not always durable enough for use in industrial settings. Flow cups sacrifice accuracy ( +/- 12%) but are much simpler to use as low-cost, basic process measurement devices.
The choice of which to use is of course dependent upon your specific situation, and it is not uncommon to use both methods with flow cups in the industrial environment and viscometers for finer measurement in the laboratory.
As a supplier of electronics protection polymers and coatings, Chase Corporation and our employees can help you with an unbiased approach to evaluating your application and process. We'll show you how to maximize efficiency, minimize cost, and improve product reliability. Our outstanding manufacturing and technical support groups can provide your organization with reliable global supply, unmatched quality, and superior technical support.