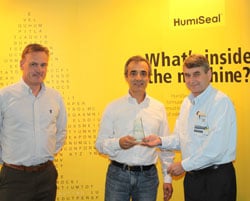 Leading vendor of conformal coatings solutions, HumiSeal, has announced that its annual European Distributor Conference, hosted this year in Amsterdam, has been a huge success in strengthening its distributor network across Europe and its Channel Partner programme as a whole.
The three day event brought together key personnel from HumiSeal including technical and sales staff as well as the entire HumiSeal European channel partner community to discuss new product development, marketing activity, sales information as well as more technical issues regarding process support.
This years event also saw the introduction of some group work in 'role-play' scenarios to help with problem solving across a wide spectrum of common issues. As in previous years, the event culminated with some distributors being recognised for various milestones with awards.
Indian distributor Drive Technologies picked up the award for the greatest increase in new customers in the year
Russian based Ostec was recognised for achieving the Greatest increase in sales in the financial year.
Cabiotec was selected to receive Distributor of the year award.
ESD Center Scandinavia scooped the award for highest sales in Europe
Finally, host distributor, Partnertec, was recognised for its help an input it organizing and hosting the 2012 EDC.
The agenda for the event was full and varied, covering territory updates, new product introductions, in-depth training on UV curing as well as a look at the conformal coating journey.
Commenting on the event, David Greenman, Managing Director of HumiSeal Europe, said: "We are fortunate to have a highly experienced and dedicated channel network throughout Europe and these events allow us to come together and strengthen that network through discussion and learning. The EDC is important to HumiSeal as it allows us to learn about the challenges and opportunities in each geographic region, which enables us to provide exactly the support our partners need. From our partners' perspective the event allows them the opportunity to learn about new product developments and target markets that will enable them to continue to grow and prosper".